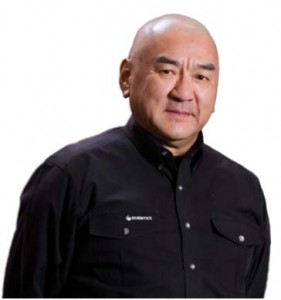 Samuel Yen-Liang Yin,
First Vice President of IAE
в
Dr. Samuel, Yen-Liang Yin (16 August, 1950 Taipei, Taiwan, Republic of China), CEO and Chief R&D Officer of Ruentex Group, is an ingenious inventor, eminent construction engineer, and highly respected educator in the engineering circles of Taiwan and China. He is an adjunct professor of Civil Engineering and Construction Management at National Taiwan University, National Taiwan University of Science and Technology, Beijing Tsinghua University, and a professor of Business Management at Beijing University.
Dr. Yin received his Ph.D. in Business Management from National Chengchi University, Master degree from National Taiwan University. Dr. Yin does reach outstanding achievement in managing business, but he is actually more at ease with the work he does research and development as an engineer, professor, and educator. He is renowned for his numerous inventions and contributions to construction industry. He is the recipient of 419 patents in Taiwan, USA, UK, EU, Canada, China, Japan, and Korea. Most of his patents advance the design and construction technologies. He has made major contributions in construction automation for steel reinforcement for welded steel wire mesh fabrication, and for assembly of concrete structural members, including an innovative multi-spiral shear reinforcement design and construction method for rectangular columns. His multi-spiral shear reinforcement is the first effective and economic method to achieve the high concrete confinement in noncircular columns. It greatly enhances concrete confinement, improves ductility and seismic resistance, reduces the labor costs by more than 45%, reduces the amount of steel shear reinforcement by 30 to 50%, reduces the carbon imprint, shortens the construction time by 50% and is highly cost-effective for precast construction.
Dr. Yin also achieved numerous advances in construction management, system integration and precast technologies. Examples are his expedient precast waffle slab system for high-tech facilities and innovative construction method for seismic isolation systems of high-rise buildings. The innovative installation of seismic isolation system can be completed in only 3 days (while the conventional cast in-situ method typically requires 25 days). The precast waffle slab system can be installed with very high precision (1.5 cm in 400 m) and reduce construction time by up to 50%. Ruentex has used his new precast technology to build large factories within 100 days with the quality of such structures outshines those that have been built using traditional steel reinforced concrete. By utilizing the RFID technique, he introduced multi-discipline system integration, set up inspection using PDA, web monitoring, etc., which led to greatly improved construction management as well as quality control, permitted remote monitoring of the project progress and improved owner-contractor communication. This is a new era of construction assembly, where the line between manufacturing and traditional structural construction blurs and where the standard of construction has been elevated.
For Dr. Yin's numerous achievements he is also the recipient of more than 70 prestigious national and international awards and professional recognitions including 2010 Henry L. Michel Award for Industry Advancement of Research, ASCE; 2010 Distinguished Engineer of Russia, Russian Academy of Engineering, Russia; 2008 Honorary Doctorate, Beijing University, China; 2008 Public Construction Professional Medal, Public Construction Commission, Taiwan; 2008 Engineering Glory Award, Russian Academy of Engineering; 2007 World Concern Award, UN World Safety Organization; 2005 National Invention Award, Gold Medal, Taiwan; 2008 Honorary Professor, China Institute of Water Resources and Hydropower 2008; 2005 Honorary Professor, Wuhan Univ.,China.many awards and honors, including the Public Construction Professional Medal form the Executive Yuan, Taiwan in 2008, the Engineering Glory Award, the highest honor of Engineers in Russia, form the Russian Academy of Engineering in 2008, the Gold Medal of National Innovation and Invention Award from the Ministry of Economic Affairs, Taiwan in 2005. Dr. Yin is a fellow of Chinese Institute of Civil and Hydraulic Engineering, and was elected to the international Academy of Engineering in 2008, Russian Academy of Engineering in 2010. For Dr. Yin's great contribution to engineering he was elected as the first vice-president of International Academy of Engineering in 2011.
Aside from being a businessman and engineer, Dr. Yin is also a warm-hearted scholar and promoter of social welfare and harmony. He believes that the strength of a society and country rests on the foundations of education.  He founded the Guanghua Education Foundation in 1989 to establish scholarship for mostly graduate students in 31 top universities in China. Near 14,000 students have received the scholarship in the past 19 years. He is also the single donator and Vice-President to the Guanghua Engineering Science and Technology Prize Board, an organization operated by the Chinese Academy of Engineering for granting prizes to distinguished Chinese engineers. Furthermore, for concerning global and human issues, Dr. Yin established the Tang Prize in December 2012 with four cash prizes of more than NT$40 million each to encourage individuals across the globe to chart the middle path to achieving sustainable development by recognizing and supporting scholars for conducting revolutionary research in the four major fields of Sustainable Development, Biopharmaceutical Science, Sinology, and the Rule of Law. The Tang Prize is truly global in reach, with laureates selected on the basis of the originality of their research along with their contributions to society irrespective of their nationality or ethnicity.
History of the founding of the Chapter
Preparing of founding the Taiwan Chapter of the International Academy of Engineering took more than 9 months, and, on March 2, 2009, the Chapter received permission from the Ministry of Interior to be established as Taiwan Chapter of International Academy of Engineering, the public organization of Taiwan. After two preparatory meetings, held first general meeting on June 20, 2009, and organized opening ceremony on June 27, 2009. Among the participants of the ceremony there were many honorary guests, including the President of the Legislative Yuan (speaker of the Parliament) Wang Jin-pyng, and the President of RAE and IAE B.V. Gusev with his delegation.
After the Opening Ceremony, the Chapter went on with further administrative procedures, and on October 23, 2009, Taiwan Chapter of IAE was registered by Taipei District Court, and obtained legal public status. Further, the Chapter started its work and perform its functioning.
Goals and tasks:
organizing and coоrdination of fundamental and applied scientific research in the area of technical sciences, design and implementation of priority research programmes and their results into practice;
development of environmentally safe industries and technologies, equipment, science and education as most important conditions of further development of humanity;
assistance to the improvement of the system of engineering education in Taiwan and other countries, training of highly-qualified scientific personnel, creating conditions for scientific creativity;
assistance to the international cooperation in the area of science and technology, and integration of Taiwan scientists and engineers into the international scientific community;
protecting legal rights and interests of scientists and engineers
assistance to humanization and intellectualization of society, development of Taiwan engineering schools on the basis of improvement of engineering education.
Published magazines
Contact information of Taiwan Chapter of IAE
Address: 10/F, No.308, Sec.2, Bade Road, Taipei 10492, Taiwan
Tel.: +886-2-81619999 * 7266
Contact person: Yi-Ying Huang
Visit of B.V. Gusev to Taiwan, 2014
International conference on concrete and reinforced concrete, 2014
The Exhibition "MOSCONCRETE 2014"
Visit of IAE, RCTU, MGSU, 2014
Visit of B.V. Gusev to Taiwan, International Tang Prize, 2014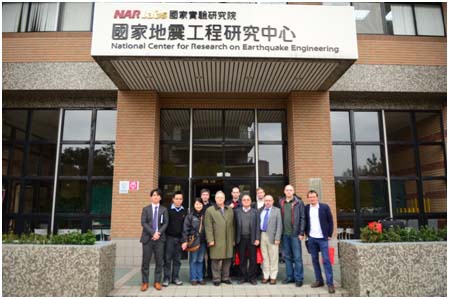 Visit of SB RAS delegation to Taiwan in 2014